Honda is one of the trusted brands for its wide array of generators and automobiles. One of its respected classes of generators is the Honda Eu2000i companion. It offers the best performance for the money here and it's also durable.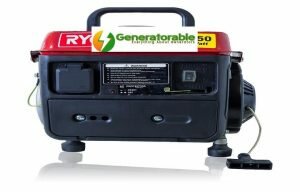 Honda portable generators are designed to offer reliable power for home, recreational, and industrial use.
In this article, we are going to review in detail the differences and the similarities between Honda Eu2000i companion and regular.
NB: Most people refer to the EU2200i companion as EU2000i companion- we shall use the two names interchangeably. And the regular model Eu200i regular.
Honda Eu2000i Companion vs. Regular
We received an email from one of our blog followers asking- what's the Honda eu2000i companion vs. regular?
Well, there's only one feature that separates the Honda companion from regular. Honda companion comes with a 30 amperes outlet and a standard outlet. This feature makes companion an excellent unit for those who want to power their small travel trailer.
On the other hand, regular eu2000i lacks the 30 amp outlet. Instead, the regular one is fitted two 20 amperes outlets.
Additionally, the eu2000i is easier to connect to a transfer switch. Now that you're aware of the major difference between the two gensets, let's have a look at the Honda Eu2000i companion in detail.
The EU2200i features a similar design to the older version EU2200i with the same red and black housing and a carrying handle that stretches along its top. This fuel tank takes up most space in this unit.
It's designed to be a user-friendly portable generator with some great features we're going to discuss in this review.
Besides the difference in power outlets, several features make users prefer the companion over the regular version. Such features include:
Performance
Parallel operation
Fuel efficiency
Noise
Compactness and weight
Durability
Advanced power technology
Cost/ price tag
Performance
According to the manufacturer, the Honda EU2200i companion delivers 10% more power than the regular model. And that means more power- more appliances you can power.
Whether you need additional power to run your major appliances like Television, refrigerator, home stereo, sump pump or a bigger saw, the companion will have you sorted.
With the companion, you'll be able to accomplish more than you would with the regular version. You'll also be able to power your small trailer thanks to the 30-ampere power outlet. To power a large recreational vehicle, you will need a 50 amp portable generator.
Parallel operation
The Honda EU2200i allows for a parallel connection to give that extra power you need. Connect your companion with a regular EU2200i and you'll get 4400 watts of power.
Additionally, the companion will also parallel with the EU200Iki/TI models. As earlier mentioned, the EU2200i companion features a 30A outlet for small RV's and one 20A outlet.
Fuel Efficiency
The Honda EU22000i features an Eco-Throttle system that makes it one of the best eco-friendly generators on the market today. The unit runs for up to 8.1 hours on a full tank, depending on the load. This makes this Genset perfect for overnight use.
Advanced Technology
Honda companion uses the latest state of the art generator technology to deliver steady and clean power.
The generator engine is connected to an alternator that produces AC power like traditional generators. However, a rectifier is used to converted the AC to DC and then the DC is later converted to AC power. This helps produce clean power and helps eliminate power surge which could damage delicate electrical appliances.
In addition, the unit has a fuel shut off feature that will automatically shut off the unit when there's low fuel. Thus it will keep the unit safe for more extended periods.
Noise levels
According to noise charts here, the EU200i Companion is a quiet as conversational noise. The unit has sound decibel ratings range between 53-62 dBA. This makes the unit perfect for anyone in need of a generator for camping, additional RV power or any source of energy for an activity that requires a quiet operation.
Price Tag
For such great features, you wouldn't expect the Eu2000i Companion to affordable as Firman generators, which are also efficient.
While the cost of purchase could be considered a downside by some, you wouldn't expect such a generator with such great features to be dirty cheap.
With this genset, you'll have to dig deeper into your pocket. The concept you get what you pay for, and the same case applies to generators.
Design and Performance
This unit is compact and weighs less than 47 pounds, and it's easier to move transport it from your house to your RV. Traditional generators have been known to be bulky and heavy, making transportation a challenge for most users.
If you need a generator that's compact and lightweight to meet the needs of your small RV, then the EU2200i Companion is the perfect choice for you.
The companion uses the Honda GXR120 engine, which was initially designed for heavy-duty construction. And for this reason, you get durability and reliability. The GXR120 engine can produce simultaneous power.
Control Panel
The control panel boasts three LED lights that help with functionality and performance. There's a top LED light that alerts of low oil level. This feature helps prevent the generator from damage.
There's an LED light in the middle of the control panel that will alert you when there's an overload. This will allow for wattage adjustment to meet your generator's specifications.
The third LED light is a green indicator that stays brightly illuminated when the unit is properly functioning.
Functionality
Unlike the Honda EU2000i regular, the EU2200i companion is designed nicely for quick starting. The automatic mechanical decompressor will ensure reduced force when starting the machine.
The companion also features an electronic circuit breaker that helps save the generator the appliances connected in case of power overload.
Lastly, the unit comes backed by a three-year residential warranty. To get the warranty you'll have to purchase a brand new unit from a trusted dealer like Amazon.
The unit is designed to allow for easier oil changes. It comes with a longer spout, bigger oil filler, and a larger oil drain to make it easier for oil changes.
Accessories
Accessories included with this model include a parallel cable to help double power output to 4400watts by connecting it to another companion generator. The unit also comes with an anti-theft bracket and storage cover.
Applications
According to the manufacturer, this generator can run common household applications. (Please note that not all applications can run simultaneously.) The applications include:
Coffer maker
Refrigerator
Blender
Portable fan
Furnace Fan, gas or fuel oil (up to 1/3 hp)
Refrigerator or freezer (energy star)
Garage door opener
Computer
Incandescent lights
Sump pump (up to 1/3 horsepower
TV/DVD
Hairdryer
Honda Eu2200i Technical Specification
| | |
| --- | --- |
| Full model name | EU2200ITA1 |
| Engine | Honda GXR120  121cc engine |
| AC Output | 1800W rated (15A) 120V 2200W max. (18.3A) , |
| Receptacles | 20A 125 V receptacle 30A 125V Locking Plug, |
| DC Output | Not Applicable |
| Starting System | Recoil |
| Fuel Tank Capacity | .95 gal. |
| Run Time per Tankful | 3.2hr @ rated load 8.1 hrs @ 25% load |
| Dimensions (L x W x H) | 20.0″ x 11.4″ x 16.7″ |
| Noise Level | 57 dB(A) @ rated load 48 dB(A) @ 25% load |
| Dry Weight | 46.5 lb. |
| Residential Warranty | 3 Years |
| Commercial Warranty | 3 Years |
| WARNING: California Prop 65 Information | |
Honda EU2200i Genset Unpacking and Setup
Below is a video to help you understand how you can set up your EU2200i generator without any complication. We found out that most users don't know how to set up this unit in the first place.
Honda Companion vs. Regular
The companion EU2200i is the upgraded version of the regular EU2000i. While the two groups retain a similar appearance, the newer version is 1 pound heavier.
The companion is rated 2200watts, unlike the older model which was 2000watts. However, the improved wattage doesn't mean that the unit will run longer than the older version.
The manufacturer states that there's a reduction of 0.2hours when running at rated load. However, the expected runtime at ¼ loads remains at 8.1 hours.
The engine models are different as the companion features a more powerful and improved engine. There's a 5 decibels difference in the two models making the Honda EU2200i quieter and perfect for camping and outdoor adventures.
How does Honda Eu2200i Companion Compare with Other Inverter Generators?
The Honda companion generator is comparable to the WEN 56225i 2250 and Briggs & Stratton 30651 P2200 PowerSmart Series. When comparing this unit side by side with the two gensets, it evident that the Companion doesn't lose the "power battle."
Companion vs. Briggs and Stratton 30651 P2200 PowerSmart
In terms of performance, the two units have surge/peak wattage of 2200watts. However, the Honda beats the competitor in terms of running watts.
Briggs running watts is 1700 while the Companion's is 1800 watts- that's 100extra watts for the companion.
In terms of noise levels, the EU2200i is the winner. It's rated 48-57 decibels while the competitor gives 59 decibels.
While a difference of 2 decibels may seem negligible, it's important to note that there's a twice increase in sound perception for every increase in decibel.
The two units have the same power supply outlets and have parallel connection capabilities.
The two units have the same power ratings; they are compact and feature an almost similar design except for the colors.
Fortunately, the EU2200i takes the lead as it features parallel capabilities. It can connect to another genset for doubling the power.
In terms of noise levels, the Honda companion takes the lead; its rated 48 decibels making it great for those who want to use it in a public space.
On the control panel, the two gensets feature 120V outlets for easy connection to most appliances.
However, the Westinghouse features two USB ports while the Honda has a DC battery charging port.
Honda EU2000i Regular Review
Honda discontinued the EU2000i regular generator in 2018, replacing it with the new version EU2200i companion. However, there are plenty of EU2000i second hands circulating in the market today, proof of how popular the model was.
If you're planning on getting a second-hand unit, why not have a look at some of the key features of this genset?
Design and Functionality
The Honda EU2000i features surge power of 2000watts and running power of about 1600watts.
It's equipped with a Honda GX100 4-stroke fuel-efficient engine. The unit runs for up to 3.4 hours at maximum load and up to 8hours at 25% load. It features an Eco-Throttle system to help minimize fuel usage and maximize efficiency when the fewer load is connected.
This unit has a sound decibel rating of 59 decibels, making it one of the best quiet portable generators on the market. However, the improved version is much quieter, producing 57 decibels at full load.
The unit is also lightweight, weighing one pound lighter than the EU2200i version. It's therefore great for camping and outdoor activities.
The low oil auto shutdown feature will shut down the unit if the oil levels go below the recommended levels. Additionally, the Automatic Voltage Regulator helps regulate voltage and protect the connected appliances from overload.
Unfortunately, this unit lacks 30 amperes receptacle. If you need to power your small RV trailer, you'll need to invest in the newer version of the EU2200i companion.
Final Thoughts Honda Companion Generator
The Honda Eu2000i regular was officially discontinued, and an upgraded version, EU2000i, released.
The new model is a reliable inverter generator with great features than most close competitors. It includes all the basic features that anyone would want from an inverter generator. There are no deal breakers in this unit.
The Honda EU2200i Companion is a high-end generator; it's lightweight, energy-efficient, quiet operation and capable of parallel connection. If you're looking for a genset for your small trailer or emergency power, we'd highly recommend this unit.